I recently recorded a webinar (replay link below) with two guest experts, who spent 2 hour teaching the live audience their system for creating hugely profitable websites that don't rely on SEO or any form of paid traffic.
I encourage you to watch the replay as these guys revealed some pretty cool tricks for how they manage to do this, and explain why just doing affiliate marketing alone leaves  a lot of money on the table.
Their core strategy is to develop an e-book, where they outsource the writing of it, and then sell it on Clickbank. However the most impressive part is how they have mastered the art of recruiting an army of affiliates to drive all the traffic for them, so they don't have to. This duo are part of the Clickbank Elite group that get V.I.P. service from Clickbank because they do so well as product vendors.
In the webinar you'll learn:
Why product creation is so profitable
How to research and plan an ebook
How to outsource the writing and what to pay
How to create a sales page that is magnetic for affiliates
How to protect your ebook from torrent sites
…and much more.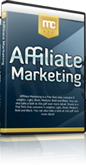 Hate your day job? Build an online business with my free 12 part internet marketing video training course now!
We take your privacy very seriously. Your email address will never be shared or sold.