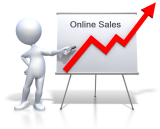 It's been a while between blog posts for me, my sincere apologies for being so quiet on the blogging front, but I've been super busy working on my own products and brands, but I decided its time to provide a marketing update and share some of the things I've been learning and hopefully help in some way.
I started making my own brands via private labeling about 18 months ago now, when Google started causing all sorts of problems for SEO websites, and all I can say is boy am I glad I did, as the results are incredible and the scope is huge for online ecommerce, and this is what I want to cover in this post
I've discussed this in a few previous, post here: Private Label Products and also here Creating Your Own Brand. However in this post I want to discuss the opportunity there is right now for ecommerce, and why it's somewhat wide open for physical product marketing online compared to saturated business models like ebooks.
Surely Ecommerce is Saturated Right?
The short answer is HECK NO! Most people have a false assumption that ecommerce must be flooded by now and too late to get into, and to be honest I don't care so much when I hear people say that, as they clearly have no idea what they're talking about and it means there's more money for me to be made while they miss out.
This year ecommerce sales topped 1.2 TRILLION dollars, which is a massive 19% increase from 2012. If that figure doesn't shock you then you might want to read that again. But here's where it gets interesting, did you know that despite all this growth online, that figure still only represents approximately 10% of total retail, in some markets it is actually less. Simply put, the vast majority of retail is still done offline!!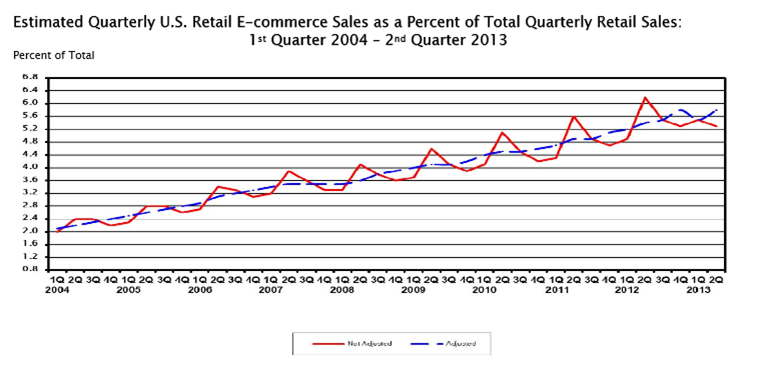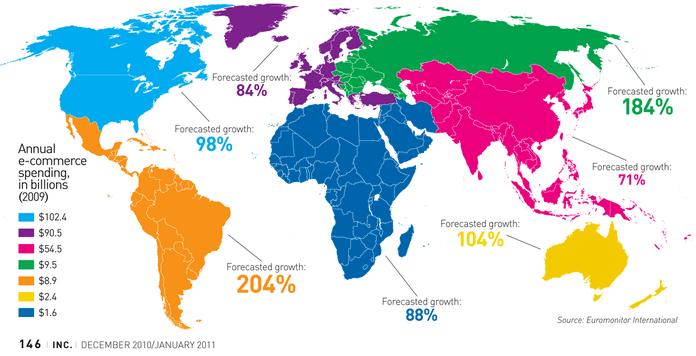 (Image from CaptureCommerce.com)
What does this mean for online entrepreneurs like you and I? It means we are at the start of the ecommerce wave, we're only getting warmed up.
Are you too late? I don't think so, quite the opposite, there's plenty of room for great ecommerce businesses. In fact due to the growth of the entire online shopping market, you could have an ecommerce business, and once making money, you could potentially do nothing and still grow each year by a minimum of 10%.
It's Only Going to Get Easier
As technology gets better and more accessible for more folks, and mobile devices improve, online shopping is only going to get easier which will further drive the growth.
Furthermore operational costs for online retail are also coming down as new and more efficient systems for couriers, inventory management and distribution develop. The brick and mortar style business will continue to experience more and more pounding from online retail and it's not going to stop anytime soon.
The way I see it folks is if you don't get into ecommerce now your children and grand children will be wanting to know why you missed the online ecommerce gold rush, so grab your slice now I say!
What's the Best Way to Get into Ecommerce?
In my opinion there are a few great ways to get into this ecommerce boom. The first is dropshipping, the second is selling on Amazon via private labeling or on your own store too.
Dropshipping
I discussed dropshipping before in previous posts here: For Those Who Don't Like Stock, but to give you a quick overview, this is where you set up an ecommerce store but you don't buy any stock that to warehouse yourself or do any of the shipping and handling. Instead you list products for sale on your store and when you make sales you send the orders over to your supplier and they ship direct to your customer for you. You obviously pay the supplier, but at wholesale prices and the customer who bought the product off your site paid retail.
Dropshipping has many benefits, the main ones being no stock, no shipping, no capitol investment, easy to scale fast and best of all 100% digital, so you can work from anywhere in the world, even if you need a phone line as you can redirect these via skype or to a mobile phone, or take all support via email or a ticketing system instead.
Private Labeling
I've talked about this a lot recently so you might want to read a previous post on the topic here: Private Label Products. I've experiencing considerable success doing this now, and am focusing on this even more moving forward. Private Labeling is brilliant as you can have your own product to market, and not have any of the restrictions that selling another companies brand sometimes comes with. You set the price, you design the brand, you call the shots!!
You can sell your own private label products on Amazon, which is a huge buzz right now, and for good reason as its works incredibly well. I got my own younger brother into this and after 6 months from starting from scratch and while working a full time day job he's now doing on average 40-50 sales a day!! Needless to say he's pretty happy with that result!
When selling on Amazon you really are crazy not to take advantage of the Amazon FBA (fulfillment by Amazon) service, as its world class and means you can scale fast and effortlessly. You can, and I do, sell my own private label brand on my own online ecommerce store also, and it works well, especially if you use 3rd party logistics.
To summarize folks, physical product selling via ecommerce is only at the beginning of the boom phase and there is plenty of room for everyone currently. There will come a day when things saturate out, but that day is still a long way off yet!
I will be blogging more about physical product selling moving forward as it is now where I heavily focus, so plenty to come.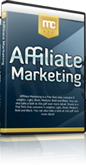 Hate your day job? Build an online business with my free 12 part internet marketing video training course now!
We take your privacy very seriously. Your email address will never be shared or sold.