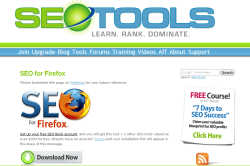 Hey Guys,
In this post I am going to be looking at SEO keyword research.
We are going to cover free ways to find keywords and then discuss how to weigh up whether or not a keyword is worth going after for SEO purposes, and how difficult it would be to get on the front page of Google for a particular keyword.
Commercial Intent
Before we look at places to find keywords, I first want to discuss the 'Commercial Intent' of a keyword. This simply means how close to buying a product the person who types in that particular keyword is. I see a lot of people get this wrong and end up doing hours and hours of SEO and getting their web pages ranking in the search engines, only to find that the keywords don't convert to sales for them.
This truly is a tragedy, however with a little thought it can be avoided.
There are a lot of paid tools you can use to assess whether or not a keyword is making PPC marketers money in the niche, and they are great for working out whether or not you should put effort into SEO to rank for the same keyword phrase organically.
However as I mentioned let's just stick to the free methods. Therefore the first thing to do is at least make sure there are a decent amount of PPC ads showing when you type in a particular phrase, as this is always a healthy sign.
More importantly though it is essential to ask yourself the question: "What is someone who types this keyword into a search engine thinking?" By doing this when you scan your potential keyword list you can quickly get rid of keywords that are not going to make you money.
For example if you were in the Cure Acne Market, the keyword "Acne Information" may not necessarily be a great one, because although some people who type this word into the search engines may be ready to buy an acne cure product, a large amount will probably just be information seekers, and may not even have acne themselves.
However a keyword like: "Help Cure Acne Fast" would be a different story altogether. It doesn't take a genius to work out that someone who types this keyword into Google is most likely to be an acne sufferer that is willing to try anything to cure their acne. These types of emotionally charged keywords convert very well.
Another type of keyword that has high commercial intent is the review keywords. This is where someone is typing in a product name plus the word 'review'. These people are well aware of the product, and have most likely already been pre-sold by another website, and are very close to pulling out the credit card and making a purchase.
Review keywords convert at approximately 10 times higher rates than other words and are well worth going after for organic traffic.
Keyword Research
Google Keyword Tool
The Google Keyword tool is possibly the best free resource for finding great keywords, and I am well aware that most people will already know about it. However apart from the usual keyword searches you may do using the tool, I encourage you to use the 'Website Content' search function, which is found on the left hand side.

A great way to do this is to search in Google with the most root keyword for your niche, for example in the cure acne niche, this would be the word 'acne'.
Once you have done that look for an authority site, such as www.acne.org and place that into the 'Website Content' search and Google will tell you what it thinks this page is about, by providing you with a list of categorized keywords..
If you are an affiliate for a Clickbank product then a good way to start your keyword research and get a feel for the niche is to place the products sales letter URL into the website content search, and check out the keywords that Google tells you about the site.
Wonder Wheel
Another free tool that is helpful is the Google Wonder Wheel function. On any Google results page you will see the link
that says "SHOW OPTIONS". Once you click on that, scroll down until you see the link for "WONDER WHEEL" as you can see in the image to the right.
Google then gives you further ideas for related keywords, that you can take note of and start plugging back into the Google Keyword Tool.
You can then simply rinse and repeat and keep putting news words through the Google keyword tool, and provided the 'synonym' function is selected the tool will keep finding new keywords related to the additional keywords you are adding.
Of course you should also be using your own brain to come up with keywords and use other tools, if you have them, however these are two simple, free, and also very effective ways to find keywords.
SEO Competition
Once you have used all your methods for finding potential keywords that you want to rank in the search engines, it is then a good idea to analyze how difficult it will be to get on the front page of Google for them, because ideally that's where you want to be to get maximum free traffic, and preferably in the top five positions.
One of the best SEO tools that I use is 'SEO for Firefox' add on.
Once you have installed this add on, you can then get some very valuable information for SEO. When I am looking at the results on the front page of Google for a particular keyword, there are a many factors that I consider, however to keep it simple I have summarized the key things below.
When you are looking at these factors it is important to look at them together and not as individual elements to base you decision on of how difficult it would be to out rank the websites.
1.) Page Rank: If all the results on the Google front page are PR 6+ then this isn't a great thing, however Page Rank alone is not the deciding factor of whether or not to tackle a keyword phrase, however it plays a role.
2.) Age of the Domain: If all the domains in the top 1-10 spots in Google are 8 years+ then this isn't great either, as Google trust older sites. However again this is one factor that goes into the mix, as I have outranked many 10 years and older sites with a brand new domain before, because the other elements were weaker for those sites.
3.) Back Links to Page: If the results on the front page of Google all have a huge amount of back links then this can be a problem, however as a rough rule of thumb, if there are some below 50 then it's a good sign, because getting more than 50 back links really isn't hard to do.
4.) DMOZ: I also like to check if the page is listed in the DMOZ directory, as Google favor sites which are listed in DMOZ (if your's isn't then I advise you to try and get it listed, as its free but can be difficult to get accepted).
5.) ON PAGE SEO: A very important thing to check is how well the sites have done their ON PAGE SEO. The main factors I look at are the; Title, Description, Keywords, H1 Tags. If you find the keyword phrase here then these pages have done their On Page SEO well and are trying to rank this page for that exact keyword phrase.
When making a decision whether or not to go after a keyword, you then have to weigh up all these factors and give the top 10 pages a sort of overall score if you like, based on all the factors we just looked at. For example, if a page has 80 back links, none of which are .edu, and they have not done their on page SEO, then the high back links would not be as much of a concern for me, and I would then continue to look at the other factors involved.
If you then think you can do better than a competitor, the search volume for the keyword is worth the time spent on SEO, and the keyword phrase is a high commercial intent one, then you have a green light to go for it!!!
With that said, this is where the SEO for Firefox add on comes into play. As you can see in the image, when the add on is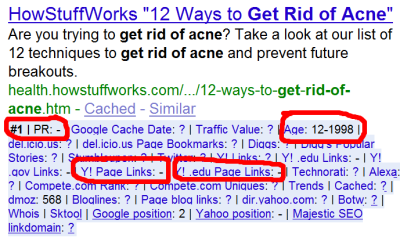 activated it shows you below each result, the core factors we looked at.
I have highlighted them to make it more obvious. These factors are Off Page SEO factors that we looked at; being Page Rank, Domain Age, Links etc…
In order to have a closer look at what each site is doing with their On Page SEO, you simply click the website and when it opens, right click anywhere in the page and select "SEO for Firefox—>SEO XRAY" then the tool will give you a wealth of useful information about this particular page.
As you can see in the image I have highlighted the On Page factors of; Title, Description and Keywords.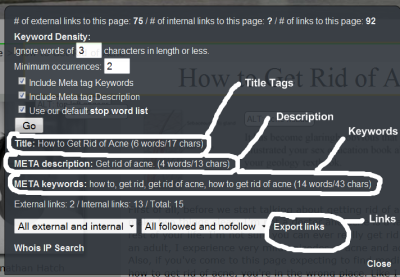 There is also another very useful function which is not for this post, but I will briefly mention it now, and that is the External Links function, which is highlighted in the image above in white at the bottom. This allows you to view where this page is getting their back links from, and can be a great resource for helping you find places to also get links from, after all Google must think these links are ok if this site is on the front page!!
Now there is a huge number of factors that go into SEO keyword research, however this will give you a great start and if you are not going after hugely competitive keywords like 'weight loss' then with some basic SEO, combined with this analysis you will do fine.
With all that said, a rough rule of thumb that you can use, if you find this a bit too difficult is to target keyword phrases that consist of 3 or more words. Usually these keyword phrases are less competitive, however not in every circumstance.
For example you might have the keyword phrase: "Learn Spanish Online" which is three words but is still rather competitive, because it is the root phrase for the learning Spanish online niche. Once you start to branch away from the root keyword phrase you will find the competition drops off.
That's all for now.
Enjoy
Matt Carter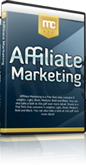 Hate your day job? Build an online business with my free 12 part internet marketing video training course now!
We take your privacy very seriously. Your email address will never be shared or sold.