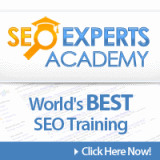 Hi everyone
I happy to announce that my very own SEO training course, SEO Experts Academy, is now open!!
Here's the link: SEO Experts Academy
I've partnered up on this product with another SEO marketer, also with years of experience building SEO sites, Terry Kyle, and the academy is our combined knowledge and expertise on SEO packaged in one concise training academy for our students.
The academy is for all website owners who want to know how to get top search engine rankings and massively increase the traffic to their sites. Whether you do affiliate marketing, Adsense, or any site, our training will equip you with the skills to drive a lot of free organic traffic to your sites.
When you join our academy, you will become one of our insider circle of students, who has access to our SEO MasterPlan, which will give you a huge advantage online!
Until midnight November 1st, we're running a special launch discount of $100 off, to celebrate the opening of the academy, so make sure you don't miss out!!
Here's the link again:
Enjoy!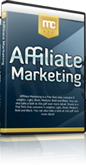 Hate your day job? Build an online business with my free 12 part internet marketing video training course now!
We take your privacy very seriously. Your email address will never be shared or sold.