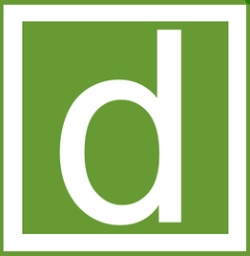 Google are all about trust, by this I mean how much trust they have for your sites.
It's a good idea to show Google you're sites are trust worthy. This can be done is a number of different ways. In this post I'm going to look at one way, and therefore be discussing how to get listed in DMOZ.
DMOZ in my experience is hard to get into, and in fact I have tried before with this blog and not had any luck. Other sites I have, so it makes little sense to me. Before I discuss some of the things I'll be doing to help make sure I get in, I want to discuss why getting into DMOZ would be a good thing in the first place.
Google knows that DMOZ is hard to get into, because every single site that is submitted is reviewed by a human reviewer. It's all done by volunteeers also, as far as I'm aware. When there's human review involved and no money spent to guarantee acceptance, then this is the best filter process for a decent site.
So Google ride on the back of DMOZ's scrutiny and reward sites with better rankings that have been accepted into DMOZ. This is the same for all directories that have human reviewers and payment doesn't assure acceptance, such as the Yahoo directory.
With that said, the more trust you have with Google the better, so it's not a bad idea to try your best to get into DMOZ.
How to Get Listed in DMOZ
The first thing I do, is go to DMOZ and look for other sites that have been accepted already that are very close to what my site is about. Let's say for example that you had an acne site, what I would do is type into DMOZ "acne" and see what sites they show.
In the image below, you'll see a category for acne that one of the sites I found was in.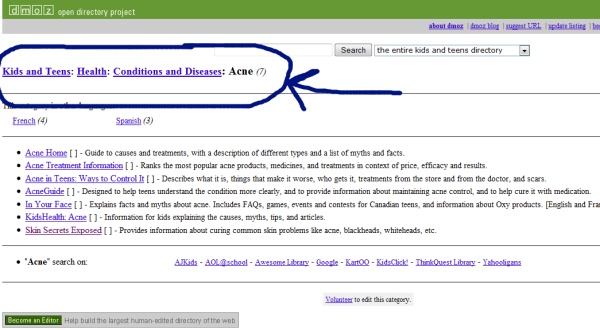 So the first thing you need to work out is what the best category for your site to go into is. DMOZ are super strict with this and if you submit to a wrong category, that can be enough to get your site denied and that's the end of that. When you are confident you are on the right category page, then all you need to do is click the link "suggest URL" and fill out the form.
It's also not a bad idea to have a look at the kind of sites that have been accepted in your chosen category and see if there's anything that you can do to your site to help it's chances. One thing I have done in the past is remove all advertising and affiliate links until DMOZ has accepted it, and then later add these back in.
Another important thing to realize when trying to work out how to get listed in DMOZ is that you can submit your sites again and again, as many times as you like when trying to get in. However you must keep in mind that when you submit your site it goes to the bottom of the pile for review.
What this means is that if you have submitted your site one day, and then you submit it again a week later, then DMOZ will recognize your domain from the first submission and remove it from the queue and leave your latest one there at the back!
So what I do is leave it for a month and then submit it again, and I keep doing this every month until I get in. Different reviewers get your site each time so eventually you might get in, and I need to stress 'might', because it's never certain, and like I said I have yet to get this blog in, but I'm still trying and have a reminder in my outlook to keep submitting every month.
I think directory submissions are worth doing, as long as it's not the kind of directories that guarantee a listing if you pay them, because I don't think Google would care for that much, but other directories still have a good effect for SEO.
In closing if anyone has advice on how to get listed in DMOZ then please comment below, because I don't claim to be an expert, I'm just sharing my plan and ideas.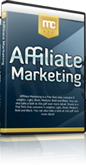 Hate your day job? Build an online business with my free 12 part internet marketing video training course now!
We take your privacy very seriously. Your email address will never be shared or sold.