Hi Guys,
Found this video pretty informative, so thought I would share it with you all. The chief economist from Google discusses Quality Score! If you can get a great quality score in your PPC campaigns then you will drive you cost per click down, and this can turn into huge savings. For example if you are paying 40cents a click and can get it down to 35cents, you have saved 12.5%, imagine if you are spending $500 a week, that is about $60 saved!!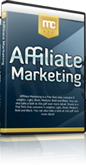 Hate your day job? Build an online business with my free 12 part internet marketing video training course now!
We take your privacy very seriously. Your email address will never be shared or sold.