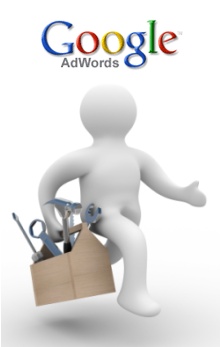 Hi everybody,
In today's post I am going to be showing you a little trick for finding hot niches for affiliates, that focus on physical products. However the best part is that I am going to show you a great free tool from Google (no its not the keyword tool, but we will use it) that will make this process a whole lot easier.
What most affiliates do is focus heavily on Clickbank products, and this is not a bad thing, however the competition can be fierce in some niches. The great news is that you don't have to stay in Clickbank, there is a HUGE amount of other networks that sell physical products which you can be an affiliate for too.
I have found that moving away from Clickbank can mean a lot less competition, which is always nice.
First of all, you will need to go the Google keyword tool and then click on the "Searched-based Keyword Tool" tab, see the image below: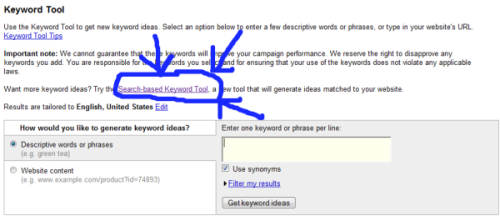 The Search-based keyword tool is a free tool that is supposed to be used to enter your website into, and Google will provide some more related keywords for you to bid on in adwords. However you can also use this tool to find untapped niches that you can market in as an affiliate, either using PPC or SEO. All I can say is that this sort of market intelligence is absolutely priceless…yet you get  it given to you for free!!
When you open the tool, you will then want to scroll to the bottom of the page and click the link that says: "or see top keywords across all categories"
Here is a screen shot to help you: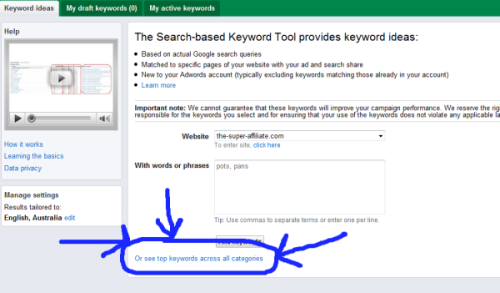 Then you will be taken to this screen, where you can browse categories of potential niches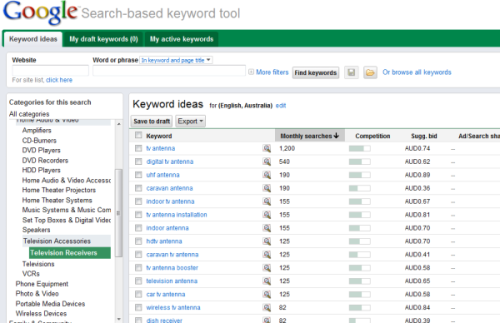 You will notice that Google has kindly categorized niches for us, and when you open one up, by clicking on it, you can then drill down further and see more sub niches inside these larger ones.
This is some extremely valuable data for us as marketers, because Google are telling us what the hottest niches that people are searching for are, and they also show you, on the right, that people are spending money on these keywords, which is a healthy sign.
Now that you have a complete list of potential niches, that we know people are searching in, all we need to do then is go back to the Google Keyword tool and type some of these phrases in, and see what the results are.
For example purposes, I found the word "digital tv antenna", so I typed that back into the Google keyword tool and I soon found more related keywords, such as "digital tv antenna reviews" that had a phrase match search volume of 1300 a month. Now that isn't the greatest search volume, but it is a buying keyword phrase, so I know it would convert well.
What you then need to do is work out how competitive that phrase would be if you were going to build a simple website to promote it. You can do this by typing that phrase into Google itself in quotes and seeing how many competing pages there are. To do this just type your phrase like this into Google: "digital tv antenna review" .
How competitive is too competitive? Well that depends on your SEO skills, however as a rough guide if there is more 50,000 competiting pages when you type the word in quotes into Google, them maybe try another one.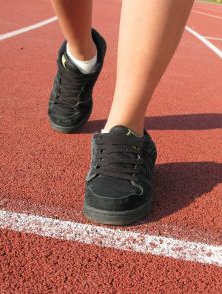 Of course judging competition on the amount of competing pages alone, is not the greatest way to tell. Therefore you may also want to analyze the top 10 places in Google and in particular the top 5 and see what they are like.
I am not going to go into that now as I have covered this in previous posts and videos, however here is a quick checklist of what to look for: Page Rank, Back Links, Age of Domain, On Page SEO, and as a very rough guide, if you see a lot of authority sites like Amazon, and they are actually purposely trying to rank for that phrase, then that's not so good.
When I say purposely trying to rank, I mean they have that exact keyword phrase in their pages Title tags, H1 tags, and meta description. Now I realize some of you reading this post might not be sure what I am talking about, so I encourage you to be proactive and do a quick Google search and learn what these terms mean, as it is crucial to know these basics of SEO.
Once you have found a niche and some keywords that you feel you could target, you will then need to see if you can find an affiliate program that you can join to promote products in that niche. You can do this by typing the niche word + affiliate into Google, so for example: "GPS + affiliate", and searching this way. Or you can use the Amazon market place and simply place an Amazon widget on your site (see Amazon affiliates for more on this).
Well that's all from me, I hope this has helped you to find ideas for more niches and products. Just remember when you are targeting keywords for SEO, make sure you take your time to find ones that you have the ability to rank for, and also words that have a high level of commercial intent, such as "reviews"
All the best,
Matt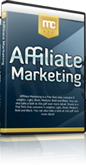 Hate your day job? Build an online business with my free 12 part internet marketing video training course now!
We take your privacy very seriously. Your email address will never be shared or sold.