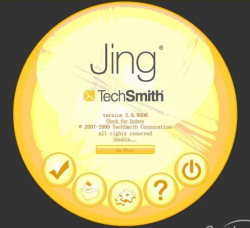 Hi everybody,
Recently I caught up with a friend of mine and he shared with me some really great ideas on outsourcing my business, among other things.
However one really cool thing he showed me, which I was aware of already, but had never taken the time to look into, is Jing, a website video marketing tool!
In this post I am going to discuss why I now like Jing so much and how it might be of use to you also. The best thing is that it is totally FREE!! (got to love that)
After installing Jing and playing around with it for a few minutes, I realized how awesome this free tool was, and started thinking of all the ways I could use it.
My friend who told me about Jing (an outsourcing guru) explained that he was using this tool to communicate with his outsource staff in the Philippines….and that is definitely one of the ways I will be using it also, however there are some other cool things you can do with it too.
Outsourcing
First off lets talk about how you could use this tool in your outsourcing, and if you are not yet at the stage where you are hiring workers in the Philippines to work on your business yet, then when you are, this will be helpful (keep in mind that you can hire people for cheap rates in the Philippines).
Whenever I am training someone to do a task for me, such as building links or using a new software tool, I always record a video of myself doing the task. Then I save this video in my training videos library and send it to my worker.
However up until recently I have been using Camtasia, which is a paid tool, that records my screen. Camtasia is awesome, however Jing (made by the same company) does the job you need for free!!
Not only that though you can also take screen shots and Jing has simple but effective editing tools that allows you to draw straight onto the screen shot. This way you can comment on what you are viewing, and send that over to your workers for feedback too!
Here's an example of what I mean: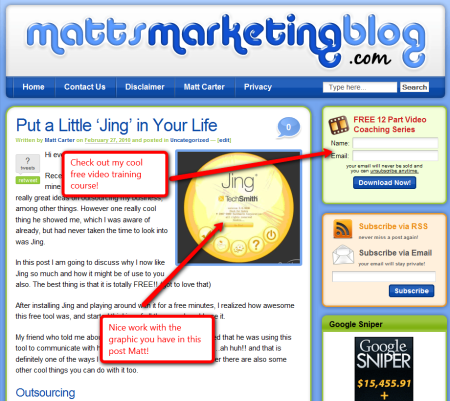 Video Marketing
Most of you have probably been through my 12 part (actually about 14 now) free video marketing course on internet marketing. If you haven't then you can sign up for it in the top right of this blog now.
The response I get from this free website video marketing course is outstanding, and the number of leads I have gained from it is mind blowing! I don't say these things so that you think I'm cool, I say it to encourage you guys to do similar things yourself using Jing. People love video, especially when it's free.
However I realize that not every niche will work with the style of videos I created, as they are for the Internet Marketing niche. However you can just as easily create  a slide presentation with great information for people in any niche. Really all you need to do is turn your emails into slides, add images and record it all with Jing!
This approach does require an email list to market too, but you could also you these Jing videos on your sites or blogs too I suppose, but like I said I am new to Jing myself so haven't tried that yet.
One thing I have seen people do though, is create free PDF's focusing on good content, and in the PDF have links to Jing videos, which I also thought was a cool idea. If you made a great PDF and it got passed around, of course making sure you had a link to a squeeze page in it too, then it could work really well!
Simplicity!
What I also like about Jing is that it so easy to use. Once you have created your video or screen shot, all you need to do is click a button and it is automatically uploaded for you and they give you a URL that you can send out for people to watch. This takes all the hard work out of having to upload it yourself!
Well that was just my thoughts on why and how I would use Jing. If you have some others ideas why not share them in the comments below, and if you liked this post please give it a Tweet using the Tweet icon at the top of the post.
Oh yeah and to give credit to my buddy who told me how to use Jing, it was John Jonas who I did a webinar on outsourcing with recently, which was a pretty awesome webinar with more awesome tips like this too. The recording of that is here if you want to watch it:
==>Outsourcing Webinar Replay<==
That's all from me, enjoy using Jing in your website video marketing ventures and what ever other cool ideas you have to use it!.
==>Click here to download Jing<==
Matt Carter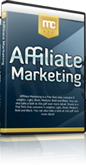 Hate your day job? Build an online business with my free 12 part internet marketing video training course now!
We take your privacy very seriously. Your email address will never be shared or sold.