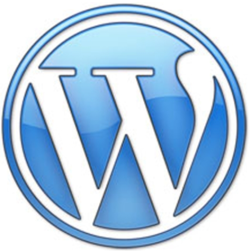 Hey Everyone,
I hope you guys are making some progress with your marketing efforts!
After many requests from people, I have decided that I will write a post explaining how to set up WordPress, and use it for your affiliate marketing strategies.
I will be showing you, how to get some really nice, and FREE, WordPress templates, and also some of the best plugins for WordPress, and why I use them.
How to Set Up WordPress Templates
The first thing you want to do is choose a WordPress template that is going to work for you. Keep in mind that your job with any website/blog that you are using for affiliate marketing, is to pre-sell the visitor and then move them on immediately to the merchants website.
In fact on that note, I think more people would do a lot better with their sites if they just realized that point, and didn't try and 'hard sell' the visitor on their affiliate sites, because you just lose all credibility by doing so.
Ok, so here is a link where you can get some free WordPress templates that you might like to check out:
==>Click HERE for Free WordPress Templates<==
There are more you can find also with a little searching too, but these ones are pretty good. One thing that I do recommend, is to stick to the simple themes, that are well laid out and not too cluttered or over done with flashy graphics, because they can actually be a distraction to the visitor, and draw them away from your all important 'Affiliate Links'
Once you have a template the you like, all you need to do is load it onto your domain and you are ready to go. Most hosting companies, such Hostgator, will give you access to a C Panel, where you will find a cool little function called Fantastico. What this does is allow you to install a WordPress blog onto your domain in a matter of a few clicks!
How to Set Up WordPress Plugins
When you have got your new WordPress blog loaded onto you domain, you then want to fine tune a few things, and this includes adding in some plugins to help you with your SEO.
There are a number of different plugins that you can use, and I will show you two great ones in a moment. First however I want to explain, for people that may not have ever done this, how to set up WordPress plugins.
Once you download the plugin you want to use, you then have to upload the folder that the plugin came in, to your domain. The place you are uploading it to, is the 'Plugins' folder which is under wp-content. Below is a screen shot for you:
The next thing you need to so is activate the plugin so that it will work. This is very easy to do, once you are in the back end of your blog, which is accessed at:
http://www.YOUR-BLOGS-URL.com/wp-admin.
Then you will need to put in your user and password that you set up when use installed the blog using fantastico, and you will be in the back end.
Next navigate to and click "Installed" which is under the "Plugins" tab, in the left menu of your wordpress blog. Once you are in there, all you need to do is locate the plugin you have just uploaded and click 'Activate' and that's it!
One of the best WordPress plugins that I use on all my WordPress Blogs is found here:
This neat little plugin basically makes doing all your 'On Page' SEO much easier. When you write a new post for your blog, you will see some settings under the area where you add the content. It is here that you need to add your keyword phrase you are trying to rank that post for.
A screen shot will make this a lot easier for me to explain: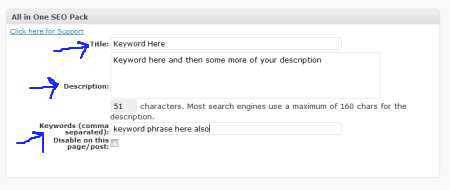 In the shot above, there is three places that you MUST have your keyword phrase that you want to rank this post for in. The All in One SEO Pack, make it so simple!
The Date Exclusion Plugin
Sometimes it might not be suitable to have the date it you posts, as you might want to hide that from your visitors, and also from Google. The reason being that Google sometimes will read the date of your post and place that at the front of your description that it shows in their search results.
This is ok when the post is new, but when it starts to age, it doesn't come across as new and relevant, and this can have a negative effect on your marketing.
This problem is easily solved, and I am going to show you how, by using this plugin:
==> 'WordPress Date Exclusion Plugin'<==
Once you have downloaded the Date Exclusion plugin, all you do is upload, it as I showed in the example above, and remember to activate it too, or it won't work.
Now there will be no dates on your posts, however keep in mind that you don't always want this, as sometimes the date may be needed, but if you are creating small yet very effective Google Sniper style WordPress blogs as your affiliate sites, then the date is best removed.
How to Set Up WordPress URL's
The next thing you need to make sure that you do, is change the structure of your posts URL set up. This is super easy to do, but it is important as Google prefer URL's in the format that I am about to show you below.
First you need to click 'Permalinks' which is under 'Settings'
Then you need to select the setting for 'Custom' as you can see in the image below.
Once you have done that, your post name will show up in the url for the post,
which is now search engine friendly.
One more and final plugin for this post is the WordPress XML site map generator plugin, which you can find here:
==>XML Site Map Generator Plugin<==
This plugin will create a search engine friendly site map that will help search engines to easily index your blog!
That's all you need to do to know how to set up WordPress. Now you just need to pick a niche, write some posts, and drive the traffic to them.
I hope that helped you guys, and have fun with WordPress!
Matt
(Note: The Google Sniper link on this page is an affiliate link, if you purchase after clicking, my business gets a commission)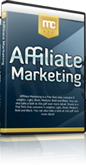 Hate your day job? Build an online business with my free 12 part internet marketing video training course now!
We take your privacy very seriously. Your email address will never be shared or sold.