Amazon Widget
I hope you like using this Amazon widget, as I am using it on a lot of my Amazon affiliate marketing sites now. I think it works best on the home page though, I haven't used it on any of the others deep pages in my sites, but it mighe work, just have to see what looks best on your sites.
I'll be in touch soon with some more tips.
Thanks for stopping by,
Matt Carter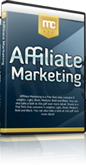 Hate your day job? Build an online business with my free 12 part internet marketing video training course now!
We take your privacy very seriously. Your email address will never be shared or sold.