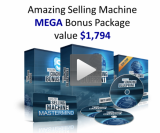 Hey folks,
You've probably heard all the buzz about Matt Clark and Jason Katzenback's new course the Amazing Selling Machine, as its getting a lot of attention from people. Anyway I think this method is very cool indeed and something that I'm getting into myself now. You do have to keep in mind that its a step up from affiliate marketing, but the payoff is bigger.
To add to the value you get in this course I'm offering exclusive Amazing Selling Machines bonuses that you can get by buying the course through me. I have recorded a video where I showcase these bonuses and explain in more detail why I think this course is a good one.
My bonuses are REAL value, unlike many bonuses out their which are just garbage. You see I am actually doing this course and building a business like Matt and Jason teach, so I set up a community mastermind group where we can all network. Watch the video and you'll see what I mean.
I also want to add, this course is a higher priced course, and there is good reason for this, the fact is it works and is valuable because of that. This is not fluff or theory, this is proven to work as the creators of this course are doing what they teach. I know both Matt and Jason personally and can vouch for their authenticity.
Some people get angry that the course is higher priced, and make all sorts of claims about it being a scam, but all of these claims are bogus from people that have no idea what they are talking about and just like to complain about anything.It makes me laugh when I read people's irrational attacks of Matt and Jason when the course hasn't even come out yet, as its rolled out live over the next 8 weeks! If this is out of your price range then pass it up, but its not out of everyone's, so I want to make it known to those who this is right for. If this was a scam I would not be recommending it.
What you need to understand is that yes this course is higher priced, but if it can help you set up a full time business then its easily worth it, just think how much college courses cost! Like I said I am personally getting into this course and will be doing it along with everyone who buys through me as part of my bonus pack is a private mastermind group.
Take care!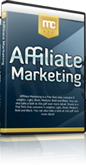 Hate your day job? Build an online business with my free 12 part internet marketing video training course now!
We take your privacy very seriously. Your email address will never be shared or sold.