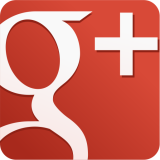 In this post I've discussed my views on Google Plus and also provided a guide on how to add a Google Plus badge to your WordPress sites. I am only new to using Google Plus, so I'm no expert, but I am getting into it and learning.
Google are being pretty clever with their promotion of Google Plus, as it's growing very rapidly, gaining more followers than any social platform ever did in its early days. It's not taking Facebook down yet, or perhaps ever, but they are doing some very interesting things, and if I were Mark Zuckerberg I'd be keeping a close eye on Google Plus, which I'm sure he is.
Before I explain how to add a Google plus badge to your WordPress sites, I first want to look at some of things that Google are doing to virally grow their Google Plus network, as we marketers can learn a lot from this. If you login to your Google Plus account, if you have one of course, you will notice that Google have made it very easy to tell others about Google Plus.
Here are some ways Google is facilitating viral growth: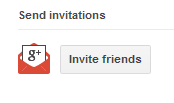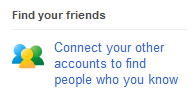 The reason I wanted to show this, is that this is classic demonstration of excellent online marketing from Google, and we can learn some things from this. On our own websites I believe we should be asking our visitors to help us spread the word about our sites. If you have good content most visitors would be glad to tell a friend, so make sure you make this process as easy as possible for them to do so. It can as simple as having social sharing buttons on your pages, but don't forget to ask people to share using these, otherwise a lot people may not bother.
Why Bother with Google Plus Anyway?
I know that managing multiple social accounts for a website is time consuming, such as Facebook and Google Plus, and I myself have not been too keen to do so until more recently. However when one looks at the rate Google Plus is growing and the things that Google are doing with it, it's not hard to imagine that some time in the near future Google Plus penetration will become more of an important ranking signal, as well as a traffic and trust signal for human visitors.
If your website is mentioned a lot in Google Plus from many profiles and your profile itself is also followed a lot and you connect your website to your profile, I believe it will pay off in the long run. I don't think you can rely solely on this for SEO ranking signals, but it's also not something to be ignored.
Of course like anything online, the system can be gamed, like backlinking is, although Google are getting better and better at spotting unnatural link patterns too, however it is a lot more work to game the system and have a popular Google Plus and Facebook fanpage with lots of content on them and also get lot of links from social sites to your website directly. Yes I know it can be artificially created, but you have to agree it is more work to do. So perhaps having a solid presence in the social networks like Google Plus will pay off more than we realize.
Using Google Plus
There are quite a few things you can do with Google Plus, and I will discuss some of these now, however I encourage you all to become familiar with Google Plus for yourself.
Searching
You can search inside Google Plus like you do in a regular Google search, however the results that are shown varies. For example you can choose to show results for 'everything', 'everyone' and 'from everywhere'

What I think most marketers will be interested in, is how Google Plus decides to show the results they do. In other words, how does the SEO for Google Plus work, and how do we make sure are Google Plus profiles are optimized? I have done a little researching on this and having the core keywords you would like to rank for in your profile page helps. I have added "affiliate marketing" in certain places on my profile.
Intergration with Google Search
Google are starting to intergrate Google Plus profiles in regular Google search results, placing them over on the right. I don't know how they decide what Google Plus profile to show over there, but one could safely assume that they most likely show people in your Google Plus circles, or potentially people with a large Google Plus following. BlindFiveYearOld has a very indepth overview of Google Plus features by the way.
Adding a Google Plus Badge to Your Sidebar
I played around today with the Google Plus badges, and below have explained how to add one to your WordPress sidebar. I tried three different plugins for this, and all three didn't work properly. They either gave errors on installation, or simply didn't show the badge at all. All of the plugins I found had very little downloads, and you have to be careful with plugins that are not tested. With that said I just decided to add the badge manually, which I explained below, however if someone knows a stable plugins that works, please tell us below in the comments.
Step 1:
Visit this page from Google – https://developers.google.com/+/plugins/badge/config as this is where you get the code you need
Step 2:
Get your Google Plus account and click 'account settings' ==> 'profile and privacy' and copy your account ID

Step 3:
Go to the URL I privided above and paste in your ID and the code will be generated for you in the box below: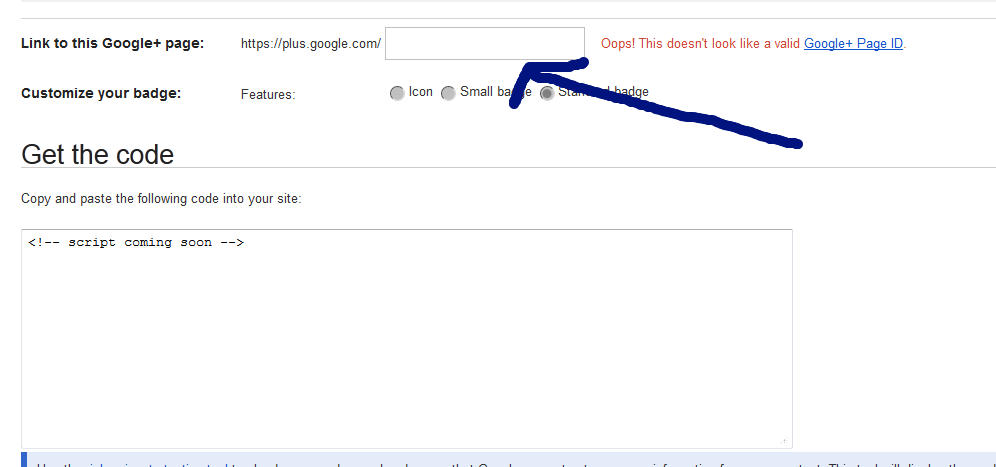 IMPORTANT NOTE – Google are incredibly annoying in the fact that if you are logged into another gmail account at the time of doing this, and you currently don't have a gmail account as your primary email from your Google Plus account, they will automatically make the gmail you are logged in with the primary email for your Google Plus and they make it virtually impossible to change. Typical Google style telling the people how it is and making it hard to change, so just make sure you are not logged into Google when doing this, or if you are that it is the Google email you want associated with this Google Plus.
Step 4:
Login to your WordPress dashboard, and click 'appearance' ==> 'editor'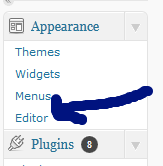 Step 5:
Google will give you two blocks of code, one of them needs to go in your 'header.php' file after the opening <head> tag and before the closing </head> tag. The other peice of code needs to be placed in the 'sidebar.php' page which you can also access from the editor. All you have to do is paste this code in that page and it will show your Google Plus badge on your sidebar…well it did for me anyway, and I am not very good with coding stuff.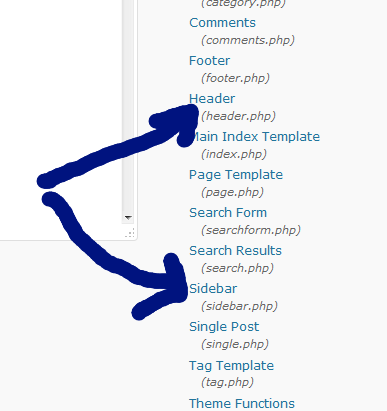 Alternatively you can just grab a Google Plus image yourself and link to your Google Plus account page from a text widget in the side bar. Some of you might prefer to do that.
In closing, I think Google Plus is here to stay, and if you don't start to build a presence with it, it might be something to regret down the track.
That's all from me for this update folks, more on the way soon, and as always if you like my content I would greatly appreciate it if you shared it around using the social buttons below!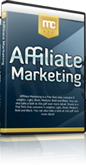 Hate your day job? Build an online business with my free 12 part internet marketing video training course now!
We take your privacy very seriously. Your email address will never be shared or sold.