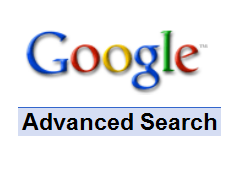 Hi Everyone,
It has been a few weeks since my last update on the blog, my apologies for that, however in today's post I am going to make up for it, by showing you a neat little trick, which is free by the way, that you can start using today, to find high page rank pages, that you can potentially get back links from.
First of all, why would we want high page rank back links? Well it's simple and I'd be surprised if most of you didn't know this, however if you have back links from high page rank pages, they can help your seo ranking much more than low page rank zero or even worth n/a pages (less than zero).
So how do we find these pages? We will be using a few tools that will help us find high page rank forum and blog posts that we can comment on, and leave our links at the same time.
The first thing you need to do is install a free Fire Fox addon, called ==> SEO Quake <==
Once you have downloaded and installed the plugin, you should see a small little icon in the bottom right of your browser that I have shown in the image below: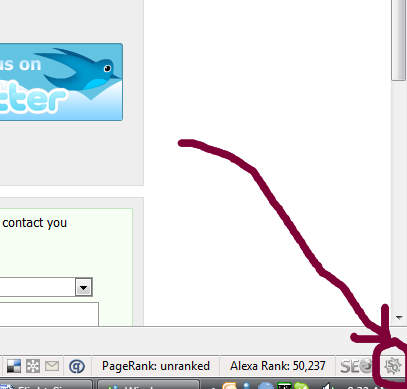 When you click that icon, it will change color, and when you are in a Google results page you will see a whole lot of extra stuff all over the page.
Most of this extra information will not be needed for this exercise, however might be something you want to explore for yourself.
The next thing we will do is open up Google, and then just start searching for forums. You can do this by simply typing in "KEYWORD Forum", the word KEYWORD is obviously replaced with the keyword you want to find forums on. (you don't have to only find forum related to your niche either, I don't).
For example "Business Forum" or "Health Forum" etc…One tip would be not to go too specific, otherwise you wont find many good forums.
Once you have some results pages showing from Google, all you do now is select the url of a forum, by copying it. Next we will be analyzing this forums domain for the highest page rank posts, so we can comment on these ones.
Next step is to click on the Google "Advanced Search" tab:

What this allows us to do is search for pages in a domain by certain keyword phrases. Remembering that we are looking for pages inside this forum that allows us to 'reply' to posts, a good keyword to type in the search field would be the word 'reply' or perhaps 'replies'. Also make sure that you paste the domain url that you copied into the "search within a site or domain" field at the bottom.
Here's an example for you: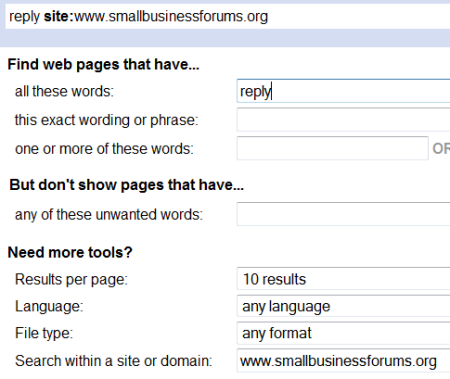 When you click search, Google will display its results for pages in this domain that have the word reply on them and hopefully these should be posts that you can post a reply to, and leave your links in your signature.
However this is where our trusted friend SEO Quake comes into play. If you haven't already, then click the icon for this tool in the bottom right and turn it on. Now you see results like the image further down the page below.
You will notice that I have highlighted two places with the red circles in the image. The top circle is where you will find the switch to rearrange the results in order of page rank.
By clicking the down arrow, Google will then show the pages in this domain that have the word reply on them, in order of highest page rank to lowest.
The top result I found by doing a quick search as I write this post, took me about 2 mins, is a page rank 2 post. When I click on that page I can read the post and then sign up a make  helpful reply to it, leaving my links in my signature.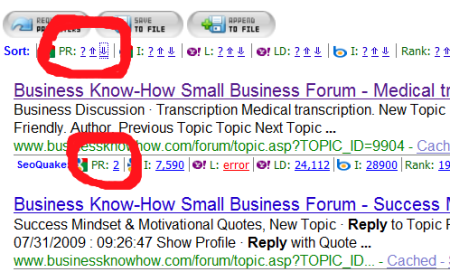 NOTE: You must make a helpful reply to posts, otherwise you run the risk of getting your account deleted as SPAM. So if you don't know a good answer, then do a quick Google search and see if you can find some helpful information. What you will find is that people often ask questions in forums, with out doing much, if any Google research first. So often the answer is not hard to find. Avoid forum on technical stuff like PHP or something, because that will be harder.
That's all there is to it. All you need to do is keep repeating the process and finding posts with page rank, so that you can get more and more links. Keep in mind that you need a lot less links to get good search engine results, if the links you have are high page rank. Anything of page rank 2 or above is great, because most people get links from page rank zero pages, and just get 100's if not 1000's of them.
This technique takes some practice and time, but it is worth it.
I must also give credit where it is due and state that I first learned this technique off my good friend and fellow marketer Mark Ling from: ==> Affilorama Premium <==
Hope this tip has been helpful,
Chat soon, and have a great Christmas.
Matt
(links in this post are sponsored affiliate links, I make commission if you purchase after clicking)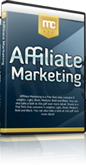 Hate your day job? Build an online business with my free 12 part internet marketing video training course now!
We take your privacy very seriously. Your email address will never be shared or sold.