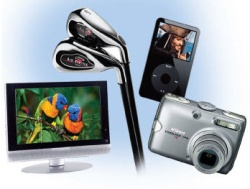 One of the most common questions I get asked by people is "what are the best selling affiliate products?" It's a great question and one that we all ask at some point, so in this post I'm going to discuss this topic and also tell you about a great free Google tool that I use.
Although I do sell and will continue to promote information products as an affiliate, I am preferring to target physical products more these days, because I am simply getting better results from them. My conversions are higher and the opportunities are huge, because there are more products to choose from.
I find health supplements sell very well, as people who have some sort of health problem are very willing to pay good money to remove the problem, and get their quality of life back. Any kind of health related product tends to fall into the category of best selling affiliate products from my experience, just make sure you choose good keywords to market them on.
Google Trends
Google provide some fantastic free tools to help online marketers, and one of my favorites, that I use when analyzing potential products to promote is Google Trends.  This tool allows you to see the search volume of keywords over time, which is a great indication of how well the products in the niche sell.
Recently I was looking for more affiliate marketing physical product ideas to set up a site for, and the niche I was looking at was Snowboards and Ski gear. I thought it could be a great niche to be in, as the keywords I was looking at had decent search volume.
However it didn't take long for me to see my flaw, because when I typed in "snowboard gear" into Google Trends, there was a huge spike in the North American winter.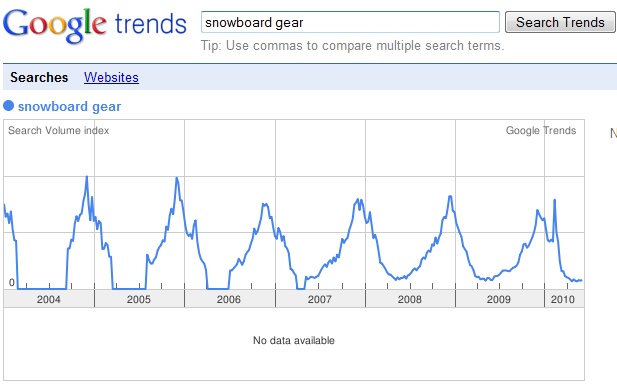 This is a more obvious example of trending, as it is caused by seasonal variations, however if I had just gone on the average yearly search volume, I might not have made many sales during the Snowboarding off season for North America.
However you can also look at the trend over years and see if the niche is growing over time, or slowly dying out. If you search in Google Trends for "Buy Halloween Costumes" you can see that the trend seems to be going up since 2007, therefore you might be able to find some easy to rank on keywords with search volume, and whip up a Halloween blog promoting costumes as an affiliate and make some decent sales, even if it is only once a year.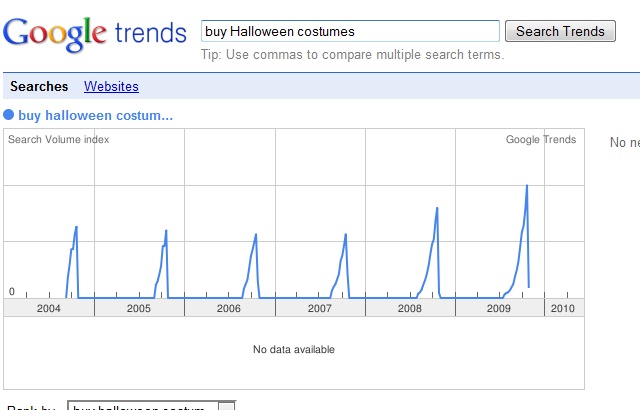 Google Trends also provides some other interesting info about the location of people who are typing in keywords. This info can be very useful if you want to do geo targeting. For example you might be selling product XYZ, and decide to target a keyword with the city name in it, EG. Product XYZ New York. Building large geo targeted sites can often work well, even if each keyword has lower search volume, you can make up for it with many pages on your site.
The best selling affiliate products are ones that are evergreen, and potentially bring in sales all year round. However you can still make some great sales at certain times of year, such as Halloween if you are selling costumes, but just be aware that the sales will not last long. Also as mentioned anything health related is also sells well.
***IMPORTANT NOTE***
For those of you who are not aware, I'm running two in depth workshops on selling physical products over a 2 week period for anyone that grabs CWealthsystem through me, where I will be going into a lot more detail on marketing physical products as an affiliate and revealing some great niches to target, how to pick the best keywords, SEO, link building and much more…
Plus you get a whole lot of extra stuff too, such as templates and the Keywords Academy product for free also. To join the others who have already signed, up all you need to do is grab cwealthsystem through my affiliate link and email me your receipt.
For full details you can either watch the webinar I did recently with Daniel from Cwealthsystem here: Cashing in with Physical Products Webinar, which has got some awesome free content in their for you. Or you can skip straight to the bonus video here: Mega Bonus Pack. which contains the link you need.
All the best with your marketing
Matt Carter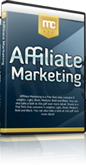 Hate your day job? Build an online business with my free 12 part internet marketing video training course now!
We take your privacy very seriously. Your email address will never be shared or sold.