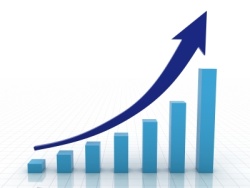 Hi Everyone,
I am about to share with you today some really important tactics that you need to be using on your affiliate marketing sites.
I have noticed recently, from emails people have been sending me, that a lot of people are leaving money on the table with their affiliate marketing sites, by not monetizing their pages properly.
This is a real shame, because you can work so hard to get traffic, however that can all be wasted if your pages are not laid out correctly. So that's what I am going to talk about in this post.
Affiliate Links
We all know that an affiliate marketing site needs to have affiliate links on the page, that's a no brainer (I hope). However what I like to do with my links is make them VERY obvious, and lay them out in such a way that they draw the attention of the visitor.
There are a few simple but effective ways to do this. The first thing is to use BOLD font for you links, and also include arrows surrounding them in some cases. Below is an example:
==>Click HERE To Get Your FREE Acne Cream Trial<==
That would work well for a CPA offer where the customer gets a free trial of the product. Notice how I always tell the visitor what to do in the link and reinforce the benefit of clicking here.
I will usually have 2 or 3 of these links inside my article, spread out, and have them placed directly after a very strong benefit that I have mentioned in the body of the article.
Ideally if you set up your affiliate marketing sites so that the web pages are all targeting BUYER keywords, then really you want to get them to click those links as fast as you can, and shuffle them over to the merchant and let them take care of closing the sale.
Affiliate Banner Ads
Make sure that you check the affiliate resources section of the merchant that you are marketing for, and see what kind of advertising they have for you. A good merchant will have a range of image ads, all different shapes and sizes that you can use on your affiliate marketing sites.
There are a couple of places that I like to place ads on my affiliate sites, and I think this will be best described using a diagram, as you can see below.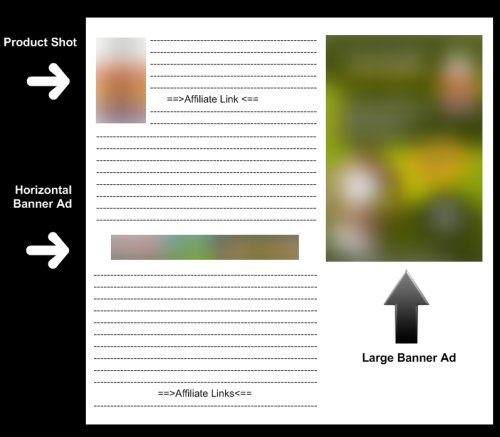 Now this is just one way to lay out an article page to increase conversions, however it does work really well on a number of my affiliate marketing sites.
You will notice that in the top left I have a product shot, and this usually only done when I am writing a review of a product. Make sure though that the product shot image is still an affiliate link that can be clicked!!
Above The Fold
The above image may not have really illustrated this next point that clearly, however what I also make sure I do is have as many obvious image ads and text links above the fold of the page, without making the page look silly of course. I don't want visitors to my sites to have to scroll down before they see the ads and links. Doing this can increase you click through rate to the merchant and henceforth sales!
Headlines
If you are going to to use headlines on your affiliate pages, then try and make them have some form of a benefit to catch the readers attention.
This next point is more aimed at sales letters, however it is a good trick to know nonetheless, and that is to make sure that your headlines tell a story in themselves.
What I mean by this is, if the visitor scans you page quickly and only reads the headlines, then make sure they tell a story that flows, on there own. So they either skim the headlines and are convinced to take action, or at least keep reading the rest of the copy.
Apart from these tips, what I always say is remember not to try and sell too hard in your copy, and instead opt for a more balanced but still convincing approach, as I have found that helps my conversions also on my affiliate marketing sites.
Matt Carter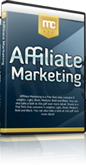 Hate your day job? Build an online business with my free 12 part internet marketing video training course now!
We take your privacy very seriously. Your email address will never be shared or sold.